Rss feed
FUTURE POLITICAL ACTION EVENTS
Thursday, 01 January 1970
To all RCFA members here are the dates for future PAC walks:10/5, 10/12, 10/26, 11/20800, actual meeting locations will come closer to datesRed shirts are at 2's
PINK ON PARADE EVENT 2
Thursday, 01 January 1970
October 8 please join us in support for Breast Cancer Awareness
2019 FAMILY DAY & CAR SHOW
Thursday, 01 January 1970
To All RCFA Local 1067 brothers, sisters and family please join us for the 2019 Family day and Car Show.
PINK ON PARADE 2019
Thursday, 01 January 1970
2019 RCFA BOD MEETING SCHEDULE
Thursday, 01 January 1970
January 8, 2019 C-Shift 08:30 @ the Orange Crest Club General Meeting & Swearing in of President, 2nd VP and 2019-2020 BOD positions To all off duty members wishing to attend this will be the first of three general meetings for the members for 2019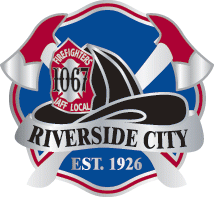 DISABILITY INSURANCE
Thursday, 01 January 1970
To all members who have the long term disability insurance, CAPF (the provider) has increased the premium on the policy. The rate is being increased from $24.50 to $29.50 per month, effective in October. Remember though, that the city picks up $10 of this cost. Please see the attached letter for the full explanation.This increase will result in an increase of $2.50 per pay period to your RCFA withholding, starting next pay period. Let me know if you have any questions, or decide that you no lon...
PUBLIC DEBATE LINKS FOR CITY COUNCIL MEMBERS
Thursday, 01 January 1970
All recent polical debates for city council can be accessed from riversideraincross.org Ward 1: https://youtu.be/3NL_POtdhHU Ward 5. https://youtu.be/qQfJ6V4OW1k Ward 7: https://youtu.be/qjfQSPFF9Lw
RIVERSIDE LOCAL 1067 CITY CANDIDATES
Thursday, 01 January 1970
To all brothers and sisters of the RFD, here are the city council candidates that Local 1067 has endorsed for the upcoming 2019 election year. Below are the names and social media pages for all to read about. As we all know Political action has played a vital role in the success of our relationship with the city. This is a way for all of us to stay informed on who we support and what they stand for. Mike Gardner for Ward 1 http://www.mikeforward1.com/ Gaby Placencia for Ward 5 https:...
BBQ FUNDRAISER FOR FALLEN CHP SERGEANT
Thursday, 01 January 1970
RIVERSIDE, CA – The Riverside Police Officers' Association (RPOA), in partnership with the Riverside Police Department, San Bernardino Police Officers' Association, San Bernardino Employees Benefits Association, Redlands Police Officers' Association, Fontana Police Officers' Association, Riverside City Firefighters Association Local 1067, and Sandals Church, are having a barbeque fundraiser in honor of Fallen California Highway Patrol Sergeant Steve Licon. Sergeant Licon was assigned...
9/11 NEVER FORGET FUNDS
Thursday, 01 January 1970
After more than a decade of work by the IAFF, Locals 854 and 94 in New York City and many others to finally get The Never Forget The Heroes: James Zadroga, Ray Pfeifer, and Luis Alvarez Permanent Authorization of The September 11th Victim Compensation Fund Act passed in the U.S. House of Representatives, Senator Mike Lee (R-UT) has placed a hold on the bill, preventing it from advancing to the floor of the Senate for a vote and further delaying the help that 9/11 responders need and deserve. ...
Crime Prevention
Thursday, 01 January 1970
Simple Crime Prevention: Anyone can be a target of even the simplest of crimes. Here are some tips to keep you safe in your everyday life: -Always be aware of your surroundings and who is around you. Take time to observe what people are wearing and what they look like in case you have to describe it later to someone. -Do not leave any items in your car that may be seen as valuable to someone else. Do not give thieves the opportunity. Put valuables in the trunk or cover them so they are no...