Rss feed
FUTURE POLITICAL ACTION EVENTS
Wednesday, 15 April 2020
To all RCFA members here are the dates for future PAC walks:10/5, 10/12, 10/26, 11/20800, actual meeting locations will come closer to datesRed shirts are at 2's
PINK ON PARADE EVENT 2
Wednesday, 15 April 2020
October 8 please join us in support for Breast Cancer Awareness
2019 FAMILY DAY & CAR SHOW
Wednesday, 15 April 2020
To All RCFA Local 1067 brothers, sisters and family please join us for the 2019 Family day and Car Show.
PINK ON PARADE 2019
Wednesday, 15 April 2020
2019 RCFA BOD MEETING SCHEDULE
Wednesday, 15 April 2020
January 8, 2019 C-Shift 08:30 @ the Orange Crest Club General Meeting & Swearing in of President, 2nd VP and 2019-2020 BOD positions To all off duty members wishing to attend this will be the first of three general meetings for the members for 2019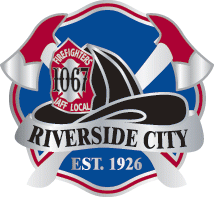 DISABILITY INSURANCE
Wednesday, 15 April 2020
To all members who have the long term disability insurance, CAPF (the provider) has increased the premium on the policy. The rate is being increased from $24.50 to $29.50 per month, effective in October. Remember though, that the city picks up $10 of this cost. Please see the attached letter for the full explanation.This increase will result in an increase of $2.50 per pay period to your RCFA withholding, starting next pay period. Let me know if you have any questions, or decide that you no lon...
PUBLIC DEBATE LINKS FOR CITY COUNCIL MEMBERS
Wednesday, 15 April 2020
All recent polical debates for city council can be accessed from riversideraincross.org Ward 1: https://youtu.be/3NL_POtdhHU Ward 5. https://youtu.be/qQfJ6V4OW1k Ward 7: https://youtu.be/qjfQSPFF9Lw